Quality Management
1. The Operation of Quality Management System
Improving the enterprise management is our persisting object. The company implements the operation mode of management systemization, work standardization, behavior regularization. It establishes quality system in accordance with ISO 9001:2000. Besides, we regularly conduct inner auditing and third-party auditing to assure continuous improvement for the management system.
We insist on the principle of PDCA continuous cycle improvement, to ensure the system's effectiveness, suitability and adequacy. Our final goal is to meet or exceed the customers' product quality requirements on the system running effect.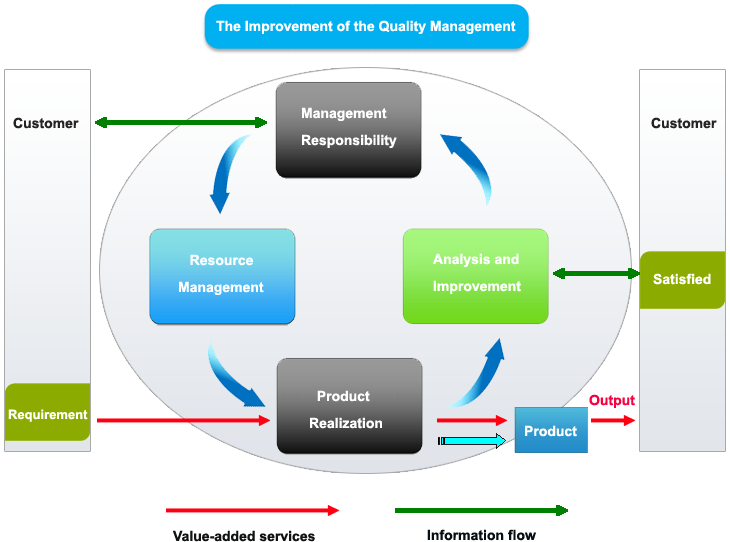 2.Quality Control System
We attach importance to the early stage of the APQP planning, and identify the strict product quality. We develop a plan of QCP quality for the key products, as well as taking prevention measures for the quality control points. Besides, we track focally in the process and put in a lot of resources for detail work in quality process control.
Product quality is the company's life. Product testing and experiment equipment keep updated to make sure the quality precision of our products. The good quality comes from the details of production process which is strictly controlled to guarantee 100% eligibility before going to the next stage thus zero defects can be achieved.
Raw material detection:
chemical composition detection which is included in chemical measurement, spectral analysis. Machinery performance examination which is included tensile strength, yield strength, extension rate, and rigidity. Metallographic examination. ultrasonic and radiographic flaw detection.
Production process detection:
every stage of work procedure shall require worker's inspection and first article inspection. Patrol inspection and random sample inspection shall be conducted in comply with examination regulations. It is also important to implement finished product acceptance as well as issuing examination report based on clients' requirement.
From raw material to finished products then to customer use, we are able to track any quality problem via production batch number, raw material stove number and forging batch number.